Our company was found based on long-term personal experience in household services and as well as plentiful and successful manager praxes.
We offer broad range of necessary services for households :
cleaning
window cleaning
laundering, ironing
cooking and purchases
shopping
care of the youngest or oldest family members
other services connected with everyday functioning of households
and ensure service of trained household homemakers. The services help to open the approach to your family happiness and gives you an opportunity to have more leisure time for yourself, further education, hobbies, work and simply everything you had no time for before.
Are you interested? Then you are nicely welcome to our internet presentation. Don't hesitate to contact us for more precise information you need.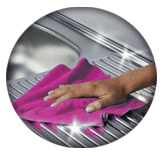 At the present time we offer cleaning and other services for household in Ostrava and its environs.